World Masters Athletics Championships Indoor with Polanik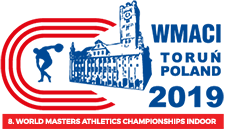 On 23th-30th of March World Masters Athletics Championship Indoor took place in Toruń.
A record number of 4366 contestants took part in 24 different competitions. 2300 medals were given away. It was the biggest Indoor Championship in the history of such events when it comes to the number of participating representatives- 88 countries! What's more, approximately 50 Olympic Games contestants took part in, 28 of which were from Poland. Most of them were involved in sport rivarly during championships.
Polish representatives showed up in a very strong and numerous team (870 contestants) who won 182 medals in total : 60 gold medals, 64 silver medals and 58 bronze medals.
Germans were more frequent when it comes to standing on the podium - 262 times. They won 100 gold medals, 79 silver medals and 83 bronze medals. Poland in this comparison took the third place. USA was the second with 62 gold medals, 48 silver medals and 49 bronze medals.
Most of the competitions of WMACI took place indoors in Arena Toruń. Although championship by it's name was supposed to be held indoors, some of the competitions took place on the stadium: hammer, javelin and discus throw. 6 and 8 kilometers cross run, as well as 10 kilometers street race walk, 10 kilometers run and half-marathon was held on the streets of the city.
Our company fully equipped all facilities and in that way made it possible to organize World Masters Athletics Championsips Indoor.