Company history
HISTORY LESSON
Polanik company was found in 1966 by Wiesław Szczepanik. At the beginning of the existence, the company manufactured household items, license plates, drawing board with accessories, etc.
The production of the sport javelins started in 1975. The owner had constructed the machinery and all the instrumentation to produce those articles. Those sport articles had already been exported to many countries in the world, through the of foreign trade centre. The javelins were simple and cheap, designed for training. They were made of steel tape and in fact this product was in great demand, especially abroad. However the ambition of Wiesław Szczepanik was to produce the high class competition javelins, made of duralumin pipes.
In 1985, after more than five years of work, struggling not only with technical problems, but also with unfavourable circumstances for private enterprises and the general economic crisis, the owner of the company completed the construction of the machine and all the instrumentation to produce the aluminium javelins. In 1987, the innovative and unusual technical solutions allowed to obtain the patent, for both the machine producing javelins and the way of performing them. First units of aluminium javelins left the factory in 1986. They were advantageous by high precision of performance, high stiffness and compliance with standards of the International Association of Athletic Federations (IAAF).
Technical solutions were innovative and have never been seen anywhere and that resulted in obtaining a patent in 1987 on the machine itself and the production process.
Thanks to the previous export contracts, it was possible to obtain the export license and sell products without mediation of the foreign trade centre. It also facilitated traveling abroad in order to look for new recipients. At the time, when people waited for hours for international phone calls and nobody heard about devices such as fax, the only way to attract foreign client was to go abroad with products samples. Additionally, the Polish products had opinion of poor quality and technological backwardness. Another impediment to enter the market was lack of the contacts in athletes' environment, like coaches and activists, because neither Wiesław Szczepanik, nor none of his entourage didn't practice athletics. Manufacturing a javelin was quite a challenge for an inventor and constructor, not a result of an ended career as it usually happens in most of companies of this industry.
However, beyond the expectations, the high quality and attractive price of javelins allowed to gain some recipients directly after the first trip. They were big and well known in the industry Belgium and German companies and we cooperate with them to this day.
Participation as a subexhibitor in ISPO fair in Munich - the largest exposition event in the sport industry, allowed to establish some more contracts with other clients.
The financial resources obtained from the first export contracts were directly invested in launching the production of more articles: shot puts, hammers and hurdles. Again in this case, use of innovative technologies made possible to obtain a patent for "production process of shot puts and hammer heads and for shot puts and hammers head manufactured in this way". The owner also obtained the protection right for the collapsible athletic hurdles, which were very well accepted on the market. Its collapsible construction had positive influence on transport cost.

In the mean time, the company owner received a letter from International Association of Athletics Federation (IAAF), which confirmed that Polanik javelins comply with all IAAF standards and are allowed to be used in competitions of the highest rank.

Introducing new products into production, was being restrained by social-economic system that was present at that time. At the turn of 80's and 90's during system transformation, there had been a change, that allowed private companies to exist and new abilities arose. In 1989 Wiesław Szczepanik decided to take a loan from European Union and thanks to that, Polanik built a production hall of space of 1200 sqm.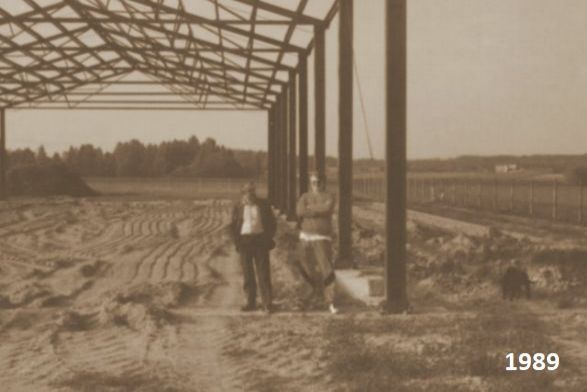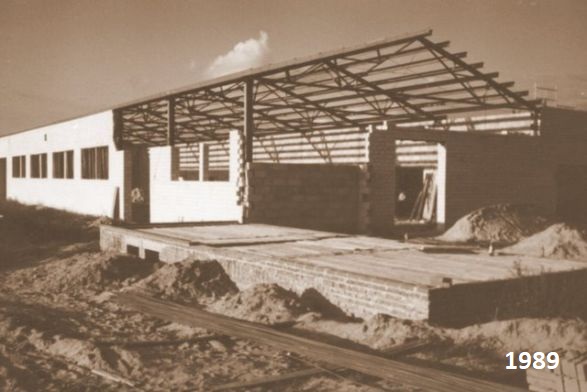 Since then, there has been a dynamic growth of the company. Excellent quality of products, unique and user-friendly ideas made the Polanik equipment well received on the market and that resulted in gathering new clients and more orders.

Owner's children: son and two daughters got involved in the company's growth. Every year there were new products introduced. The owner of the company received patents and protection laws on many products (approximately 30 in total).
In 1992, a discus production line was launched. Initially there were only wooden school discuses. In the following years, new models had been introduced: plastic with IAAF certificate, hard plywood for intensive trainings and highly modern carbon with brass rims ,which were also IAAF certified.
Currently, we produce approximately 50 models of discuses which comply with the most sophisticated athletes' needs.
Malachowski Discus takes a proud place in our offer, which had been designed with a cooperation with the World Champion Piotr Małachowski.
Exquisite athletes were working with us during production of other equipment.
Olympic Champion Szymon Ziółkowski created Ziolkowski Hammers with us.
Olympic Champion Tomasz Majewski helped with Old School Premium Line by Tomasz Majewski.
World Record Holder Anita Włodarczyk shared her experience and knowledge with us and thanks to that we created "record hammers": GOLD HAMMER by Anita Włodarczyk and PINK HAMMER by Anita Włodarczyk.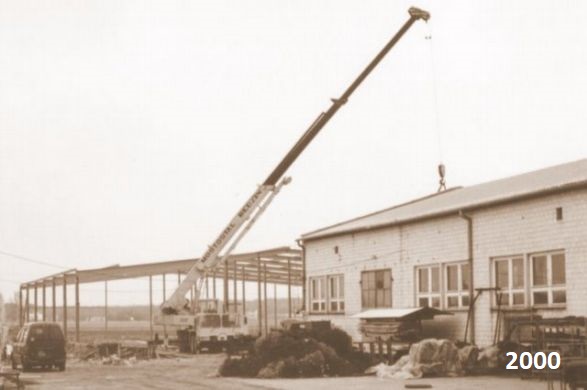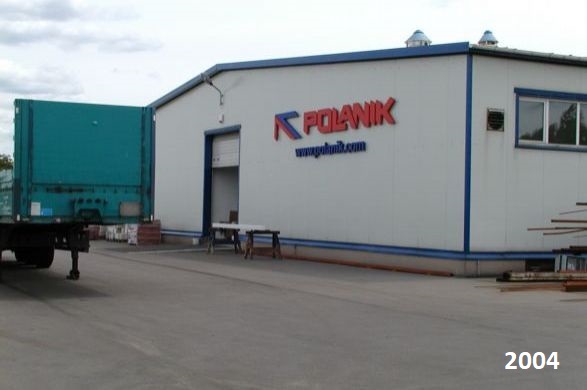 In 1993, we launched a production of starting blocks, 4 models in total: school-training, universal and two competition with IAAF certificate. In competition ones, special pressed aluminium profiles were used. Unlike other companies where cast aluminium was used.

Hurdle with one-piece frame was replaced by something completely new. 40 collapsible hurdles can be packed in one box. That resulted in significant drop in transportation costs in the final price (in comparison to the regular hurdles where only 15 hurdles could have been packed in one box) and enabled shipping to the farthest places in the world. Over time, we launched production of other models of school, training and competition hurdles. In 1997 another group of products started to be manufactured - high jumps stands. Nowadays we produce 6 models: three school, universal for clubs and two competition certified by IAAF. All stands are made of aluminium profiles designed in Polanik company and are patented by the patent office. The telescopic construction and special mechanism of competition stands allows for comfortable operating. This equipment is considered as one of the best on the world.
In 1998 the company has introduced safety cages for discus and hammer throwing. The cages performed very well on many stadiums in Poland and many other countries of the world.
At the same time, except implementation of sport equipment, we launched production of auxiliaries such as racks and carts to storage sport articles.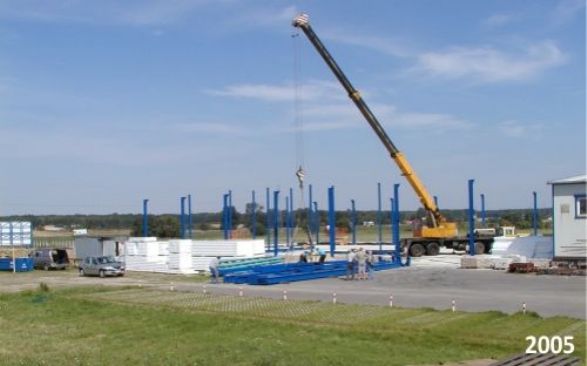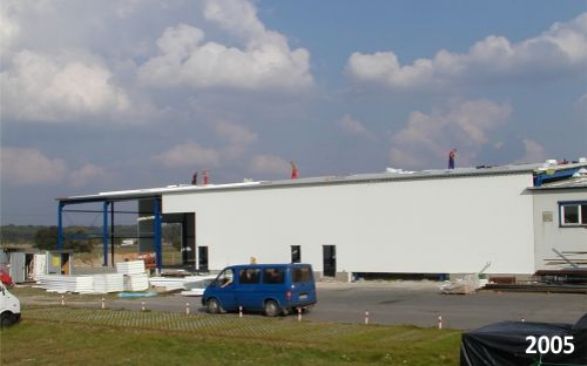 Over time, the athletic equipment began to appear on more and more serious sport events and the brand Polanik became increasingly  known  and appreciated.
In 1997 there was a breakthrough, the athletics hurdles of Polanik appeared at the World Championships in Athens '97.  Since then, each year Polanik sport equipment is used during top sport events on the world.
In 1998, the International Association of Athletic Federation (currently World Athletics) introduced the certification system for athletic equipment in order to improve the quality of sport equipment and to compensate competitors chances. At the highest level of sport competitions the only equipment that can be used is the one tested by the Technical Committee of the Federation, which meets the requirements. Such certificates obtained 150 products of Polanik company. They are mentioned in official publications of the Federation as acceptable for competition at the highest level including the Olympic Games. In case of Polanik company it  became a fact in year 2000 in Sydney, Athens (2004), Beijing (2008), London (2012), Rio de Janeiro (2016) or during last Olympic Games in Tokyo in 2020.
Since 1994, we set up an exhibition during "Sport i Rekreacja" expo in Warsaw. Since 1999, the company participates, as an independent exhibitor in the ISPO fair in Munich. It is important to mention about participation in fair FSB- International fair trade for public space, sport and leisure facilities in Cologne, where the company is present as an exhibitor since 2007.
This helps in gaining more customers and enhances Polanik's prestige. The company is  already the laureate of many awards and honours: Polish Association of Athletics Federation and the Polish Olympic Committee  for the best products, National Labour Inspectorate  in the competition  "Employer, Organizer of Safe Work", the title "Business Fair Play" for year 2001, and the owner - Wiesław Szczepanik was honoured as An Entrepreneur of the year 2003 by the Regional Chamber of Economy in Piotrków Tryb. In 2011 Wiesław Szczepanik received the award of the Mayor of Piotrków Trybunalski.
In 2001 another production hall with an area of 1,750 sqm. was finished. We located there modern welding, joinery, javelin section, powder paint spraying and galvanization. This allowed to increase the production capacity, independence from suppliers, launch production of new products, raise work safety and social conditions of the crew. We have always paid big attention on work conditions, because well qualified  personnel is very important for business development.
In 2012 many investment were realized. The main office was completely renovated. Now our team members work in significantly more comfortable conditions, and first of all the quality of customer service is higher. The product showroom with not only the athletics equipment but also the athletics apparel collection and footwear was set in the new office. We built a hall with an area of 450 square metres and with that we expanded our production space. We bought another, third CNC machine canter.
In 2014 we bought a TruLaser cutter and expanded our services portfolio.
In 2019 we finished high-bay warehouse unit with an area of 2700 square metres.
In 2020 we enriched our machine park with milling machine. 
Another hall - devoted to surface treatment processess such as galvanisation, was finished in 2022. In the building of 3000 square metres, there is a warehouse and office-social space.
In general, our production and warehouse surfaces will amount to over 10 000 square metres.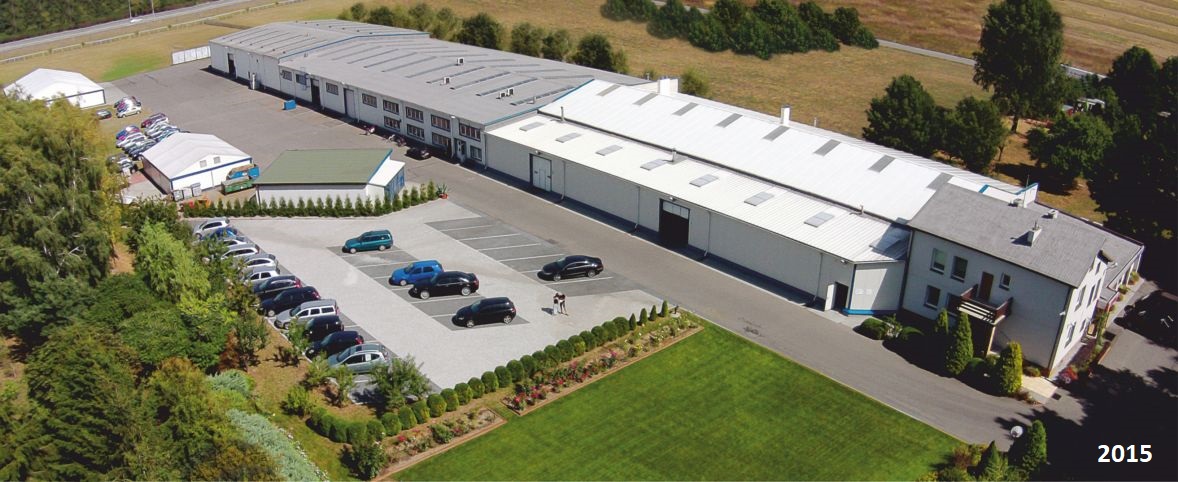 Not many Polish companies can boast about period of almost fifty years of continuous, business development. During that time, the small workshop  has gradually turned into modern company. All our investing activities result from a belief that continuous development of the company guarantees its stability. Dariusz Szczepanik says: "In my opinion, the company which designates, as a rule,  a significant part of its income, irrespectively to the amount, for investments has better chances to survive in unfavourable conditions and to develop effectively in good economic situation." That rule has been working well at our company for years.
In modern halls with area of almost 7000 square metres, over 130 employees work on the assortment of over 1000 products, which goes to tens markets around the world.
In 2003, Family partnership Polanik Sp. z o.o. was formed, which gradually takes over the company's current activities carried out individually by Wiesław Szczepanik. The aim to establish such partnership was further company development and willingness to hand it over to the next generation. The company's shareholders were: Wieslaw Szczepanik, his wife Emilia and children: son Dariusz  and two daughters Ewa and Joanna. On the verge of succession in 2019 son Dariusz and two daughters Ewa and Joanna became partners. Since the very beginning of the partnership, the chair of the president is held by Dariusz Szczepanik. In 2020 the position of the vice president of Polanik Sp. z o.o. was covered by Marcin Szczepanik.
In accordance to permanent company development and product range extension, in 2011 there was created: Polanik Spółka z o.o. Spółka Komandytowa. New partnership is responsible for the trade and distribution and Polanik Sp. z o.o. is manufacturing and providing services. Polanik Sp. z o.o. - Sp. k. took over the distribution and trade from Polanik Sp. z o.o. Polanik Sp. k. enrich Polanik's offer with products of other companies.
The ambition of the shareholders is  further stable development of the company, new products introduction, expanding markets, strengthening the image of the producer and distributor of branded sports equipment, promotion of athletics and healthy lifestyle.
The founder - Wiesław Szczepanik once said:  "When I established the company I did not expect that it will expand so much, I was just doing what I liked... the rest happened kind of by the way" .