Kamila Skolimowska Diamond League with Polanik
16th of July 2023, there was Silesia Kamila Skolimowska Memorial in Chorzów. Since last year, this competition is a permanent entry in athletics calendar of Diamond League.
On Silesian Stadium, 25 000 spectators were able to observe an action of masters such as Armand Duplantis, Gianmarco Tamberi, Jakob Ingebrigtsen or Mutazz Isa Barszim
Polish fans were keeping their fingers crossed for Natalia Kaczmarek, Pia Skrzyszowska, Wojciech Nowicki, Piotr Lisek and other Polish representatives.
Wojciech Nowicki was second to none in hammer throw by getting 80.02 metres in his best trial. He achieved qualifications for next year's games in Paris with that score.
The first place was also taken by Natalia Kaczmarek, who smartly planned her 800-metre race and she overtook Lieke Klaver. With the time of 49.48 she set the new meeting record and her personal best!
Ewa Swoboda also put her best foot forward, who took the third place among very strong cast in 100-metre race, but most importantly, she set her new personal best – 10.94.
Similarly to previous editions, the meeting was held using Polanik equipment, which we had equipped Silesian Stadium with.
Speaking of this, we cannot not mention that Kamila Skolimowska Memorial has been supported by us since its first edition, and we are hugely satisfied with helping to achieve great results by the best athletes i.e. Anita Włodarczyk, who set current world record using our hammer during Kamila Skolimowska Memorial. :) 
MORO → https://memorialkamili.pl/slask-napisal-historie-bialo-czerwona-liga-kaczmarek-i-swoboda-bohaterkami/
PHOTO GALLERY → https://www.facebook.com/memorialkamili/photos
Promotional song → PAWEŁ FAJDEK x IVAN x PEJA - Diamentowa Liga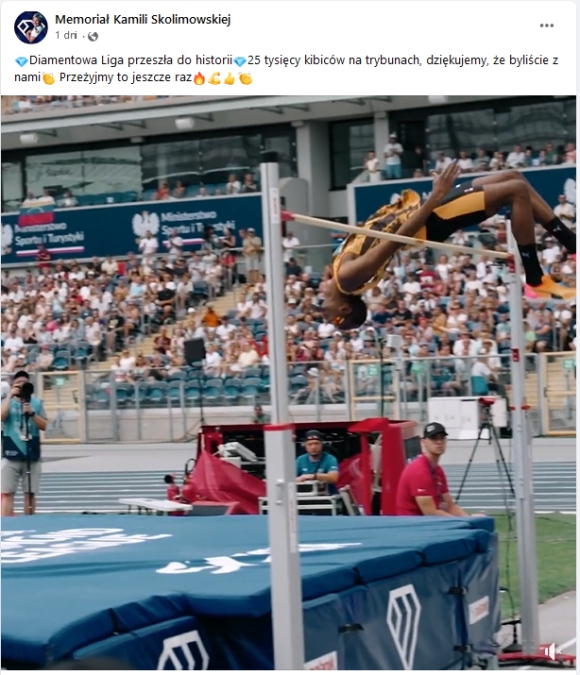 Translation of the text in the photo: Diamond League is now a history. 25 thousand spectators, we thank you for being with us. Let's see that again.