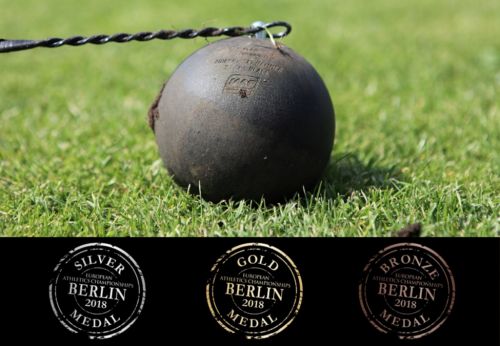 Polish athletes are european strenght!
"White-reds" scored second place in medal classification during European Championships which took place on 6 - 12 of August 2018 in Berlin. British were first and German were third.
Thank's to cooperation with our exclusive distributor on German market Sportera GmbH, our equipment supported athletes on 24th European Championships.
We supplied starting blocks, discuses, hammers and shots.
It is another high-range competition with Polanik and another medals with our equipment!
"White-reds" dominated hammer throw event in which they scored 4 medals. All of them were won with Polanik hammers :)
It is worth mentioning that 2 events translate to 6 medals. We know that not only Anita Włodarczyk, Joanna Fiodorow, Wojciech Nowicki and Paweł Fajdek chose Polish equipment but also Alexandra Tavernier (silver) and Bence Halasz (bronze) gave their medal throws with Polanik hammers. It means that we have two full podiums of Polanik medals!
Situation is favourable for us in shot put event - 2 out of 3 medals in men event were won with Polanik shots: Konrad Bukowiecki (silver) and David Storl (bronze).
Polanik according to it's slogan "helps to win" and that confirms it!
In 1997 Polanik hurdles made their appearance to World Championships in Athens. Since then, we have been continuously present on all the most important competitions. Olympic Games (Rio de Janeiro 2016, London 2012, Beijing 2008, Athens 2004, Sydney 2000), World Championships (London 2017, Beijing 2015, Moscow 2013, Daegu 2011, Berlin 2009), European Championships (Berlin 2018, Amsterdam 2016, Zurych 2014), Indoor World and European Championships, competitions: Maccabiah Games in Jerusalem, Olympic Youth Festival in Gyor, Kamila Skolimowska Memorial or Diamond League in Brussels and these are just examples.
Let's get back to 24th European Championships and to Polish success. During Championships in the capital of Germany, Polish athletes won 12 medals including 7 gold, 4 silver and 1 bronze medal.
Gold medals in berlin were won by: Anita Włodarczyk (hammer throw), Paulina Guba (shot put), Justyna Święty-Ersetic (400 m), woman relay 4x400 m (Justyna Święty-Ersetic, Małgorzata Hołub-Kowalik, Patrycja Wyciszkiewicz, Iga Baumgart-Witan), Adam Kszczot (800 m), Wojciech Nowicki (hammer throw) and Michał Haratyk (shot put). 
Silver medals went to: Sofia Ennaoui (1500 m), Marcin Lewandowski (1500 m), Paweł Fajdek (rzut młotem) and Konrad Bukowiecki (shot put).
Joanna Fiodorow was the one who reached out for the bronze.
WE CONGRATULATE ALL AND WE ARE GLAD THAT WE WERE ABLE TO BE INVOLVED IN THIS SUCCESS!!!
We invite you to the official photo gallery: www.pzla.pl
6.08 Monday, qualifications
7.08 Tuesday, day 1
8.08 Wednesday, day 2
9.08 Thursday, day 3
10.08 Friday, day 4
11.08 Saturday, day 5
12.08 Sunday, day 6