The best Polish and foreign athletes showed their great form during Orlen Cup 2021. On 12th of February in Atlas Arena Michał Haratyk and Ewa Swoboda shined the most.
Apart from Piotr Lisek and Paweł Wojciechowski, the champion of Asia Ernest John Obiena, world champion Sam Kendricks and olympic champion Thiago Braz took part in pole vault competition.
Matwiej Wołkow was an unexpected hero of the meeting. This 16 years old Belarussian jumped 5,60 which was the new world record in pole vault U18. The competition was won by more experienced jumper Kendricks, who jumped 5,86.
In women high jump Alessia Trost from Italy was the best. With the result of 1,94 m she won the competition in Łódź. The best Polish jumper - Kamila Lićwinko - was the second (1,84 m).
There were some fine stars in shot put competition. Michał Haratyk was second to none. He put on the lenght of 21,83 m, which is now his personal best. This result got him the winner's podium.
In 60 m men hurdle run Jarret Eaton was the first, who got the best result in this season - 7,51 seconds. Christina Clemons (7,91) was the best in women hurdle run. Karolina Kołeczek (8,01) was the second.
In 60 m men run another competitior from United States was triumphant - Mike Rodgers (6,52). In women run, Ewa Swoboda dominated the athletes from North America and she won the run with the result of 7,22.


RESULTS:
Shot Put Men
1. Michał Haratyk (POL) 21,83
2. Marcus Thomsen (NOR) 20,51
3. Konrad Bukowiecki (POL) 20,32

60 m Men Hurdle Run
1. Jarret Eaton (USA) 7,51
2. Aaron Mallett (USA) 7,60
3. Krzysztof Kiljan (POL) 7,73

60 m Women Hurdle Run
1. Christina Clemons (USA) 7,91
2. Karolina Kołeczek (POL) 8,01
3. Stanislava Skvarkova (SVK) 8,20

60 m Men
1. Mike Rodgers (USA) 6,52
2. Marcell Lamont Jacobs (ITA) 6,53
3. Dominik Kopeć (POL) 6,66

60 m Women
1. Ewa Swoboda (POL) 7,22
2. Dezarea Bryant (USA) 7,28
3. Lotta Kemppinen (FIN) 7,28
Similarly to previous years, the equipment neccessary for all competitions was delivered by our company.
The meeting in Łódź has been organized since 2015. Previously as Pedro's Cup, and since 2017 as Orlen Cup.
More on facebook: https://www.facebook.com/MityngOrlenCup/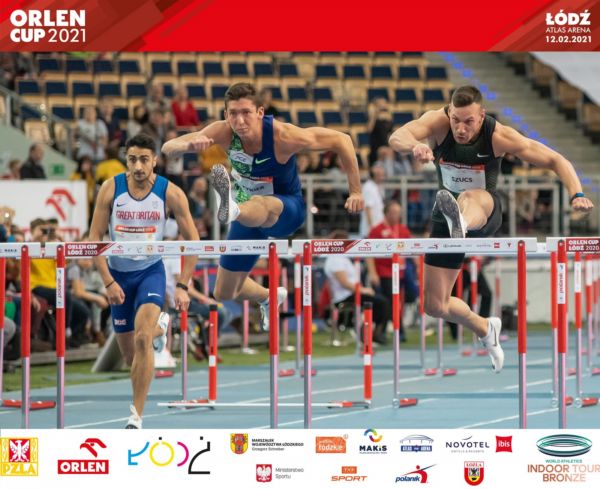 Photo source: https://www.facebook.com/MityngOrlenCup/photos.