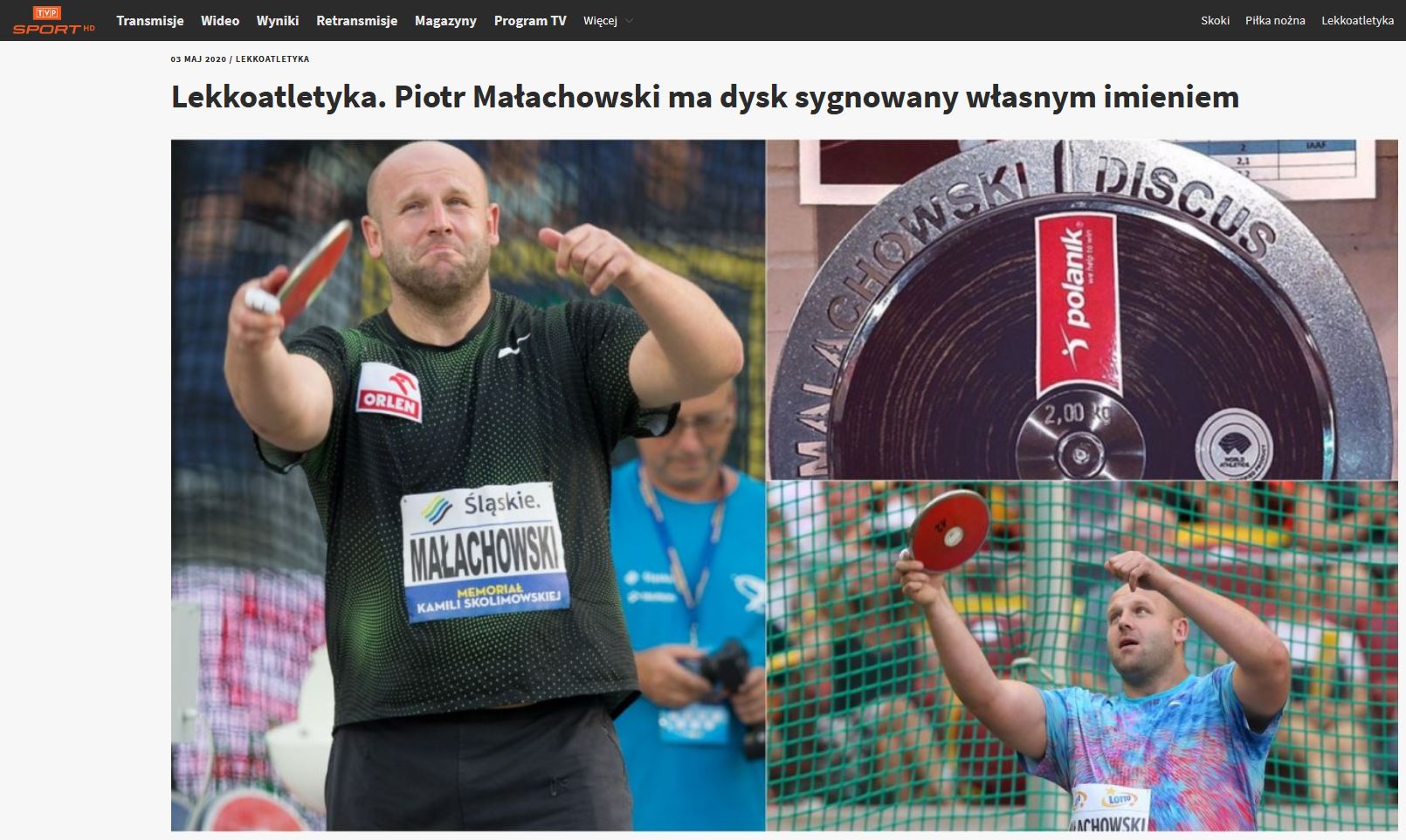 TVP Sport 3.05.2020
Filip Kołodziejski
Another interesting initiative in athletics environment. Polanik with two-time silver Olympic medallist Piotr Małachowski presented new equipment for discus throw competition.
To be a legend, one has to work for years. Małachowski has done it without any doubt. He is in the athletics top for over a decade. In 2015 he became a World Champion in Beijing and brought two silver medals from this event (2009 Berlin and 2013 Moscow). He also is a two time silver medallist in Olympic Games (Beijing and Rio de Janeiro).
Piotr Małachowski is introduced to the market.
The time has come to "draw the blinds" from his achievements. Discus thrower told in social media that together with Polanik they designed and started selling new discus.
Malachowski Discus is precisely 2000 grams - just like the rules tell. On the outside it is casted with galvanised steel. On the inside it is covered with hard plywood. Information says that the competitior was present during the designing part. The price for this baby is 130 euros. The company is also selling definetely more expensive equipment. Apart from Małachowski, there are also Tomasz Majewski and his shot as well as Szymon Ziółkowski and his hammer in the company's portfolio.
- Before cooperation with Piotr Małachowski, we designed all products by ourselves and we send finished equipment to athletes for tests. This time, we invited this discus thrower to cooperate with us during the designing part. It took us 14 months to do so. Every element of the hammer and the handle had been redesigned from the scratch - the company said about Małachowski Discus.

36 year old was supposed to finish his carrer in 2020 but because of Covid-19 he had to change plans. He will finish after the battle in Tokio in 2021.


HPD19-2 MALACHOWSKI DISCUS Competition Discus