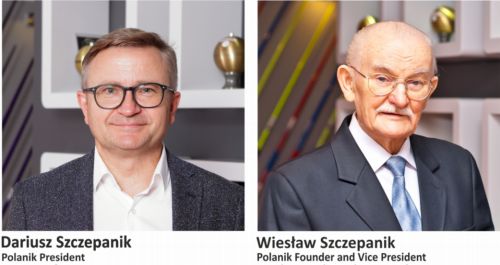 Dear Customers,
as it was stated in our previous edition of the catalogue, we devoted those two years mainly on company growth. An increased amount of orders combined with limited warehouse space, in some cases, resulted in extended shipping realization times. In order to meet our customers' expectations we decided to build a high-bay warehouse unit. In 18 months, we created a beautiful, 11 meters tall building with a storage space of about 2700 sqm. Thanks to this investment our logistics standards will shortly return to the state which our customers are accustomed to. Most of our supplies will be available in the warehouse ready to be shipped immediately. The rest will be assembled as shortly as possible, but when it comes to custom and non-standard products – those can be still made on request.
Not only have we faced the challenge of building the warehouse recently, but also we noticed that a good economic situation on world markets resulted in increased demand for Polanik athletics equipment in Poland and abroad. We have significantly improved our productive capacity, upgraded our manufacturing processes, bought new vehicles and machines i.e. another CNC vertical milling centre made by American manufacturer Haas. We are also planning on investing in further buildings, machines and production equipment.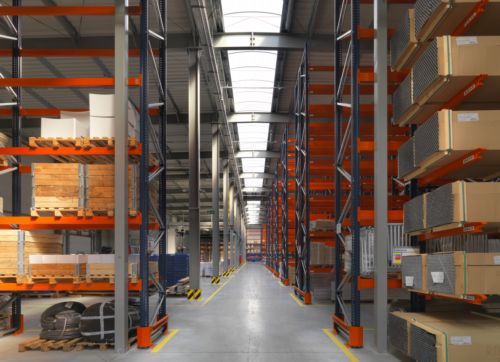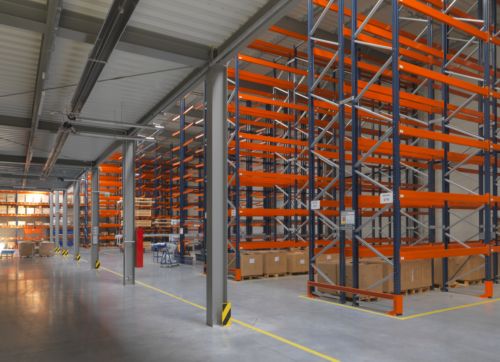 Although, we had an abundance of investments, we managed to introduce and improve a variety of athletics products. We have established a brand new production line of Carbon javelins, which seems to  become more and more popular among competitors from around the globe.
We invited a great athlete Piotr Małachowski to cooperate with us. Our concerted efforts let us design a new line of discuses. Next season, you will have an opportunity to buy "Malachowski Discuses" with a thin steel rim, stainless steel central plates and plywood side plates, which are much appreciated by Piotr himself.
A huge success of "Tomasz Majewski Shots" has encouraged us to expand this line of products with more weight availability. Those shots "has already helped" athletes during, among other things, the European Championships 2018 in Berlin and the World Championships 2019 in Doha.
Our hammer and discus throwing cages now include stainless steel equipment, which will significantly increase their durability in every weather conditions. Above mentioned products as well as all new and improved products can be found in this catalogue, which we are handing to you now.
Supplying prestigious athletics events with equipment and throwing implements is included in our strategy of promoting the Polanik brand on world markets and surely it is something to be proud of. For our clients it is a byword of high quality of our products. A stadium completely equipped with Polanik products could be seen during sports meetings of Indoor World Tour Copernicus Cup in Toruń, the IAAF Diamond League Finals in Brussels, the IAAF Intercontinental Cup in Ostrava and the European Athletics U18 Championships in Bydgoszcz. Our throwing implements visited places such as the European Championships in Berlin and the World Championships in Doha, helping athletes win championship titles and medals in hammer throw and shot put competitions.
On that occasion I would like to thank all athletes, coaches, activists and distributors for the trust they gave us and successful cooperation. Our thanks especially go to our hammer throwers who succeeded  using Polanik products: to Paweł Fajdek for his fourth successive World Champion title, for Anita Włodarczyk for being a European Champion for the fourth time, to Joanna Fiodorow for great fight and becoming a silver medallist of the World Championships in Doha, to Wojtek Nowicki for delivering us a tremendous amount of emotions and a bronze medal in the World Championships in Doha, to Konrad Bukowiecki and Michał Haratyk for astonishing life records and champion titles. Our sincere thanks also go to Piotr Lisek for splendid competitions, medals and a presence on Polanik Cup in Piotrków Trybunalski. Polanik also thanks Piotr Małachowski for cooperation in designing new line of discuses and Szymon Ziółkowski, Tomasz Majewski and Piotr Rysiukiewicz for constant support in our actions – your involvements make them worthwhile.
In the end I would like to thank our crew which has expanded to 130 people. Your work is reflected in successes of athletes and newly opened to use facilities. It is also your success.
Two years full of new, exciting challenges are ahead of us.  We look forward to cooperating with you and see you in stadiums! :)

Darek Szczepanik