On 5th of June 2022, 30 thousand spectators watched the athletics competition on Silesian Stadium in Chorzów.
68th Janusz Kusociński Memorial was blessed with the presence of 7-time Olympic Champion Allyson Felix, but she was not the biggest star of woman 400-metre run. The American lost on the last straight to Natalia Kaczmarek who a couple of days ago scored the second-best time in the history of Polish athletics (50.16). With the run during the competition, she confirmed the fact that she is well prepared (50.40). 

- I am really happy about the score and the time. I was a little tense, but despite that, I won. Now, I have the best time and I find that highly motivating for further running. I have to admit that we have a healthy competition when it comes to the place in relay team and that helps. I keep on progressing and I dream about getting close to the Polish record. I run fast ,but the peak of my form is planned for July and August - Kaczmarek says.

Ewa Swoboda started her season in a great manner. She run 100 m in a time of 11.08 - She missed her personal's best by 0.01. - I ran the whole race, and it was good. I lost the curse that I had had on this stadium. A lot of work is ahead of me, but let me say something again: "It's good. I can also say that I am back" - our sprinter says.
A true ornament of the meeting was the hammer throw event. Women event was won by Anita Włodarczyk (75.76 m) who overtook Malwina Kopron (75.08 m). Ewa Różańska (71.31 m) beat her personal best and took the third place. Unfortunately, only half a metre keeps her away from filling out the minimum for European Championships.
- The atmosphere was out of this world. I am happy with the result and the regularity of my throws. I feel I have some power reserves for better throws. You probably remember how long it took for me to get things up to speed - Włodarczyk reminds. She is also an ambassador of Silesian Stadium. Last year, despite her poor beginnings, she became the Olympic Champion.
One of the afternoon's hero was Wojciech Nowicki who won the hammer throw event with his last throw (81.58 m - it is the best score in the world this year). He beat Quentin Bigot (80.55 m) and Paweł Fajdek (79.62 m). - The last trial was conducted without any thought. My score was fine, so there was no need to strain myself. It is not the peak of my form, We are still working tirelessly - Nowicki says.
800-metre run was won by bronze Olympic medallist Patryk Dobek. - I needed a bit of rest, which is why my previous results were not so good. Getting off the tops and hard training helped - our runner says, and underlines that spectators do not have to worry about his form, because his coach, Zbigniew Król is a guarantee of such a thing.
The main event of the competition which is 3000-metre run was dominated by indoor silver medallist of this event, Aleksander Wiącek. - Winning is very important to me, especially on a stadium such as this. It is hot, and it is difficult to finish with good times with these temperatures, so the final result is not as enjoyable as it could be - 21-year-old admits, who beat the distance with the time of 8:09.76 and overtook Adam Kołodziej.
The shot put event was won by bronze Olympic medallist Tom Walsh (22.31 m).
Konrad Bukowiecki had a lot of reasons to be happy because he scored 21.66 and that is the best score in this season. - It would give me a silver medal during last European Championships, so I take this score as a good sign. In my career, I am at the place where I cannot put on 100% of my abilities because the strongest does not mean the farthest in my situation - our contestant explains.
Jasmine Camacho-Quinn was the best in 100-metre run.
The rivalry between sprinters was won by Arthur Cisse (10.24), long jump by Milica Gardasević (6.81 m), 1500-metre run by Beata Topka (4:13.27) and 400-metre run Alexander Ogando (44.68).
Chris Nilsen was the best among pole vaulters (5.92 m), but he failed at jumping 6.07 m.
The minimum of PZLA for World Championships U-20 was filled out by Anna Matusewicz (6.42 m).
Astonishing results in 800-metre run were presented by Diribe Welteji (1:58.28) and Sofia Ennaoui (1:58.98) and Anna Wielgosz (1:59.84). - I am very happy, and I am glad that I scored that because it was a bit surprising. I did not think that it will be that good. I am also happy with the run as well as the start at the Silesian Stadium - Ennaoui says.
68th Janusz Kusocińśki Memorial is the eldest Polish meeting, which has been awarded to be a part of very prestigious World Athletics Continental Tour Gold - it is almost identical Champions League in athletics. Only Diamond League events are more prestigious.
Our company is the Partner and supplier for the Polish Athletic Association and Equipment Partner of Silesian Stadium.
We congratulate all great results, and we are glad that our equipment helped to win again!


Photo gallery: https://www.facebook.com/MemorialKusego/photos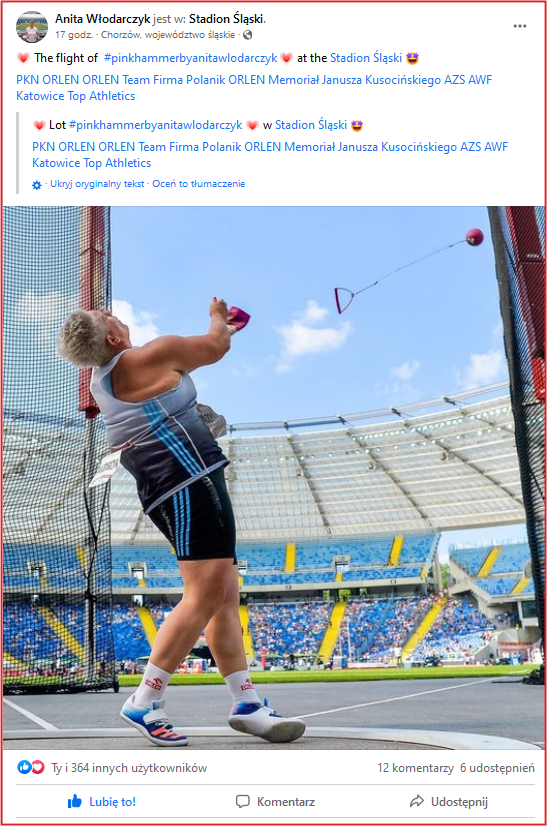 Source: https://www.facebook.com/anitawlodarczykofficial/posts/591095315721808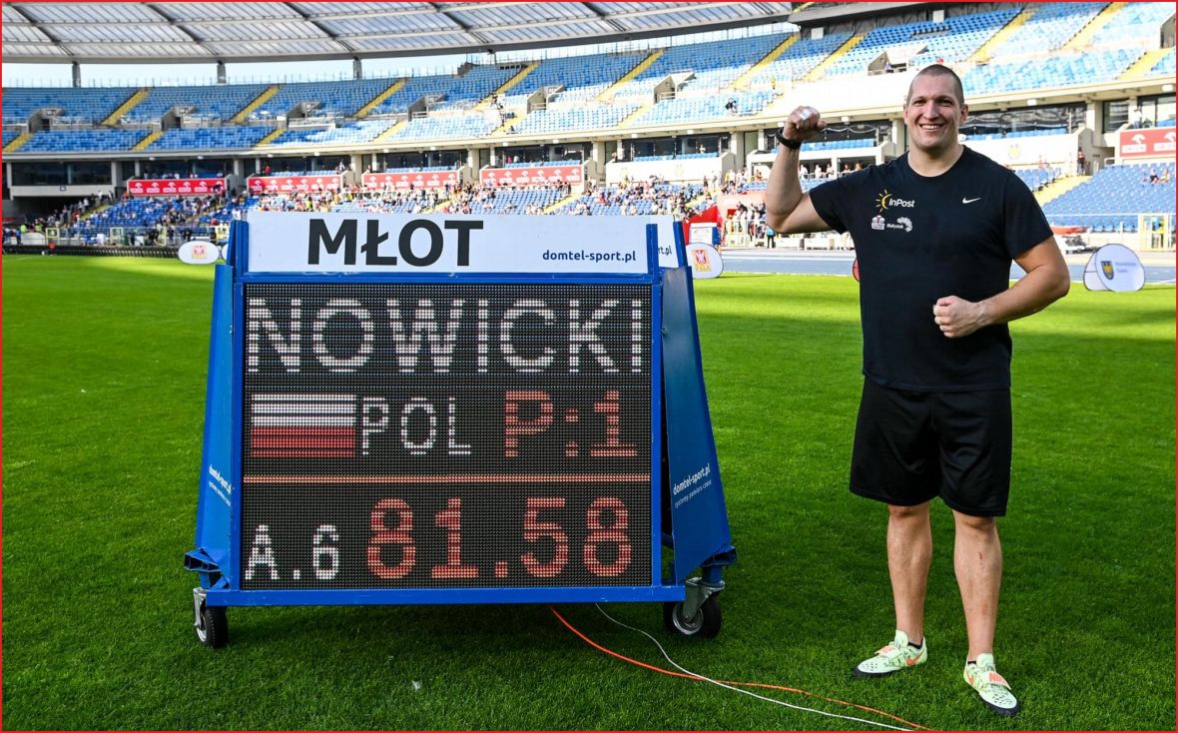 Photo: Paweł Skraba
Source: https://www.facebook.com/MemorialKusego/photos/2583996178398939