On 18-20 of March 2022 in Belgrade, there were 19th World Athletics Indoor Championships in athletics.
Polish athletes come back from Belgrade with two medals.
Adrianna Sułek in pentathlon and women 4x400 relay team were on the podium. In Serbia, there were also two records of the globe.
What does final medal classification of Indoor Championships 2022 look like?
19th edition of Indoor Championships was not as successful for white-reds as previous ones. In Birmingham in 2019, our representatives won five medals. This time, they got only two.

Ewa Swoboda was very close to being on the podium. Thousands of second decided that in the final of 60 m race, she took fourth place. Justyna Święty-Ersetic took the same place in individual 400 m race as well as men's relay (Tymoteusz Zimny, Mateusz Rzeźniczak, Maksymilian Klepacki and Kajetan Duszyński). Konrad Bukowiecki failed in shot put event.

Adrianna Sułek won the best score in Belgrade. She became worlds silver medallist on the first day in pentathlon. She beat the 24-year-old Polish record with the result of 4851 points.

In the last event of this competition, Matusiński Angels took the podium. They won bronze medal in 4x400 m relay with the time of 3.28:59, right after Jamaica and Netherlands. The final squad was: Natalia Kaczmarek, Iga Baumgart-Witan, Kinga Gacka and Justyna Święty-Erestic. In the qualifications, Aleksandra Gaworska was included as well.
Women relay team has achieved medal success for the third time in a row. Thanks to that, Poland was 22nd in the medal classification. In point classification, white-reds were nine.
Ethiopia was the best representation of the competition - four golds, three silvers and 2 bronzes. They were won on the track, of course. However, Americans were more frequent visitors of the podium (19 times) but their triumphs were a bit less frequent.

World Athletics Indoor Championships 2022 was the host of two world records.

Before the competition, it seemed like a few best indoor scores may happen. In the end, we saw only two. Yulimar Rojas in triple jump scored 15,74 m and beat her own world record by 31 centimetres.
Right before the end, an amazing Armand Duplantis beat his own achievement by 1 centimetre. In pole vault event, he jumped at the height of 6,20 ⇒ https://www.worldathletics.org/competitions/world-athletics-indoor-championships/belgrade22/news/feature/mondo-duplantis-world-pole-vault-record-620 
We sincerely congratulate all contestants, and thank you for three days of emotions!
Another Indoor Championships are going to be held next year. Chinese Nankin will be the host in March 2023.
Medal classification of World Athletics Indoor Championships, Belgrade 2022
Order: Gold, Silver, Bronze and All medals in total
1. Ethiopia 4-3-2 ⇒ 9
2. USA 3-7-9 ⇒ 19
3. Belgium 2-0-0 ⇒ 2
4. Switzerland 1-2-0 ⇒ 3
5. Sweden 1-1-1 ⇒ 3
6. Bahamas 1-1-0 ⇒ 2
6. Brasil 1-1-0 ⇒ 2
6. France 1-1-0 ⇒ 2
6. Spain 1-1-0 ⇒ 2
6. Portugal 1-1-0 ⇒ 2
6. Ukraine 1-1-0 ⇒ 2
12. Jamaica 1-0-2 ⇒ 3
13. Italy 1-0-1 ⇒ 2
14. Greece 1-0-0 ⇒ 1
14. Canada 1-0-0 ⇒ 1
14. South Korea 1-0-0 ⇒ 1
14. Cuba 1-0-0 ⇒ 1
14. Serbia 1-0-0 ⇒ 1
14. Tryninad and Tobago 1-0-0 ⇒ 1
14. Venezuela 1-0-0 ⇒ 1
21. Netherlands 0-2-2 ⇒ 4
22. Australia 0-1-1 ⇒ 2
22. Kenya 0-1-1 ⇒ 2
22. Poland 0-1-1 ⇒ 2
25. Nigeria 0-1-0 ⇒ 1
25. Norway 0-1-0 ⇒ 1
27. New Zealand 0-0-2 ⇒ 2
27. Great Britain 0-0-2 ⇒ 2
29. Kazakhstan 0-0-1 ⇒ 1
29. Slovenia 0-0-1 ⇒ 1
29. Uganda 0-0-1 ⇒ 1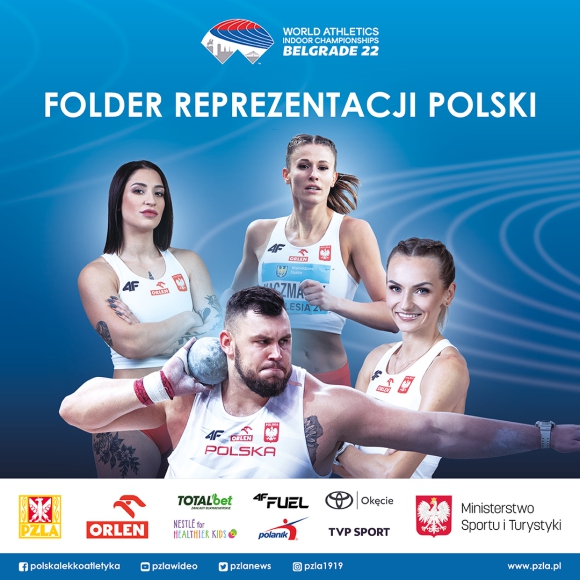 More:
https://www.worldathletics.org/
https://www.facebook.com/polskalekkoatletyka